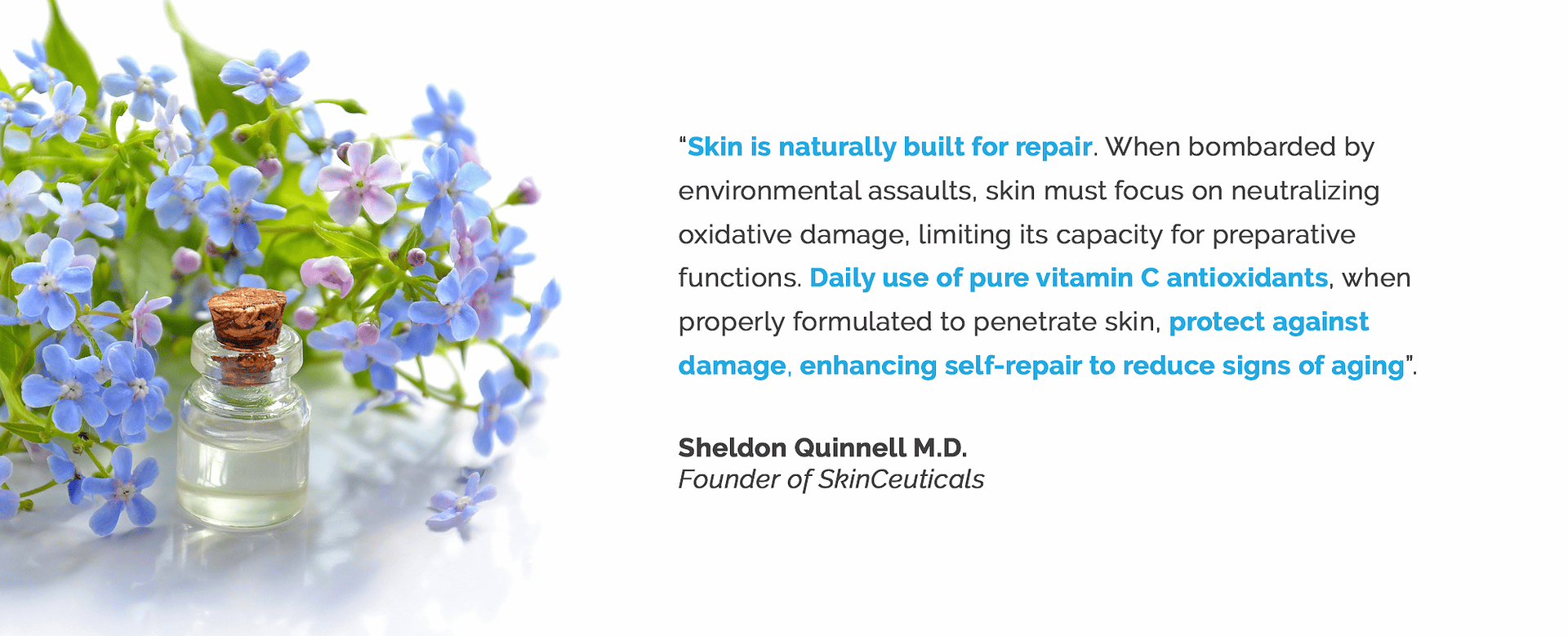 THE PHILOSOPHY IS SIMPLE:
"Long lasting, comprehensive results, are achieved through the combination of state-of-the-art clinical procedures professional treatments and advanced homecare." SkinCeauticals
Before and after in-office procedures and treatments, SkinCeuticals offers homecare products designed to maximize patient benefits and enhance in-office results.
Integration has 3 very important points:
CLINICAL PROCEDURES
THE KEY FOR OPTIMAL RESULTS
Clinical procedures are in-office professional treatments such as lasers and injectables performed by medical professionals.
These procedures can provide significant correction for lines and wrinkles, age-related volume loss, rough skin texture, and unwanted pigmentation and blotchiness.
ADVANCED HOMECARE
MAINTAIN AND COMPLEMENT IN-OFFICE RESULTS
Designed to prevent future damage, protect healthy skin, and correct previous damage, the SkinCeuticals product line of advanced skincare products maintains and improves skin health while complementing and protecting clinical procedure results.
PROFESSIONAL TREATMENTS
THE SECRET TO MAXIMIZING SKIN HEALTH
The key to optimal skin health is a skincare professional.
By combining a customized at-home regimen with powerful in-office treatments and targeted skincare solutions, the result is healthier skin with visible improvement in fine lines, wrinkles, and other signs of premature aging.
BEFORE & AFTER IN-OFFICE TREATMENTS
IHA offers professional skincare advice and can recommend the correct SkinCeutical homecare products designed to maximize results for the below procedures:
Non-ablasive laser: improves the appearance of photodamage, fine lines, and hyperpigmentation. With limited post-treatment downtime, patients can continue their daily routine with minimal interruption. Non-ablative treatments are performed in series of 3-6 treatments with 3-4 weeks between treatments.
Ablasive laser: uses laser enterygy to remove layers of the skin in a precise and contreolled manner. Often used to treat advanced signs of aging, such as deep, lines and hyperpigmentation, ablative laser therapy stimulates collagen production and causes a resurfacing of the skin.
Chemical peel: chemical solutions ar used to remove skin cells and stimulate collagen remodelling, as well as to improve hyperpigmentation, fine lines, wrinkles and skin texture. Chemical peels are often performed in a series of 4-6 corrective treatments
Injectables: Used to add volume and fullness to correct moderate to severe facial winkles and folds. Neurotoxins paralyse the muscles of facial expressions to create a youthful and relaxed look; injectable fillers create volume and plumpness
SKINCEUTICALS PRODUCT RESEARCH
The below excerpt is taken from a SkinCeuticals article: "Enhanced Skin Permeability of C E Ferulic after CLEAR + BRILLIANT Perméa Laser Treatment" for more information, please feel free to get in touch with us at IHA.
"Photoaging results in numerous clinical effects in the skin, including wrinkles, textural changes, dyspigmentation, telengiectasia, and lentigines. Long-term sunlight exposure has been shown to increase the risk of actinic keratoses and nonmelanoma skin cancer. Amongst the approaches undertaken to reduce this risk are laser skin resurfacing as well as topical therapies. Concerning the latter, ascorbic acid, commonly known as vitamin C, has received much attention for its ability to reduce ultraviolet (UV)-induced photodamage. The mechanism underlying this photoprotective effect is thought to be related to ascorbic acid's antioxidant activity. When human subjects topically applied L-ascorbic acid as a 10% solution for 5 days prior to UVB irradiation, a significant reduction in erythema was observed when compared to vehicle controls.
With the advent of nonablative laser technologies, many patients are opting for laser treatment as a method to improve the appearance of photodamaged skin. Recent advances in nonablative laser research and technology have led to the development of a novel approach termed fractional photothermolysis (FP). This technique, which relies on water as a chromophore, was the first successful demonstration of the delivery of fractional microthermal treatment zones (MTZ), with intentional skin sparing during the delivery of laser energy to the epidermis. Studies have shown that the subsequent wound healing response stimulates exfoliation of both the untreated and laser treated skin. Thus, FP offers the distinct advantage of equivalent efficacy with accelerated healing and reduced side effects when compared to other nonablative lasers that do not spare tissue."